What is Track?
Track is Narvar's platform for post-purchase shipment tracking experiences for brands and retailers. Track leverages the flexibility of highly configurable features and layouts to drive engagement and loyalty for retailers, while communicating shipment status updates and estimated delivery dates to customers. Keep customers within your brand with a branded tracking page, build trust with proactive notifications like "out for delivery," and allow consumers to choose how to receive those messages – whether through email, SMS, or both. Narvar also enables you to offer your customers flexible delivery options and the ability to leave unique delivery instructions for every package.
Branded Shipment Tracking Experience
With Track, your post-purchase tracking experience is always on point with your brand, improving your ability to deliver continuous engagement with your customers, build trust, and generate loyalty.
Track enables you to completely control the branding of your post-purchase tracking experience including:
Images

Fonts

Headers

Colors

Layouts
The increased styling capabilities empowers your brand to drive engagement with your customers during their tracking experience, building trust with your customers over time leading to increased brand loyalty.
Configurable
Not only does Narvar's Track give you the ability to fully brand your post-purchase experience, but the tracking experience is also configurable enabling you to create unique layouts with content specific to device type and locales. You can customize your various tracking experiences to include the following assets:
Estimated Delivery Date (EDD) Panel

Marketing Assets

Customer Feedback

SMS Notifications

Email Notifications

Product Recommendations
You can also customize the layout to meet your customer's specific needs.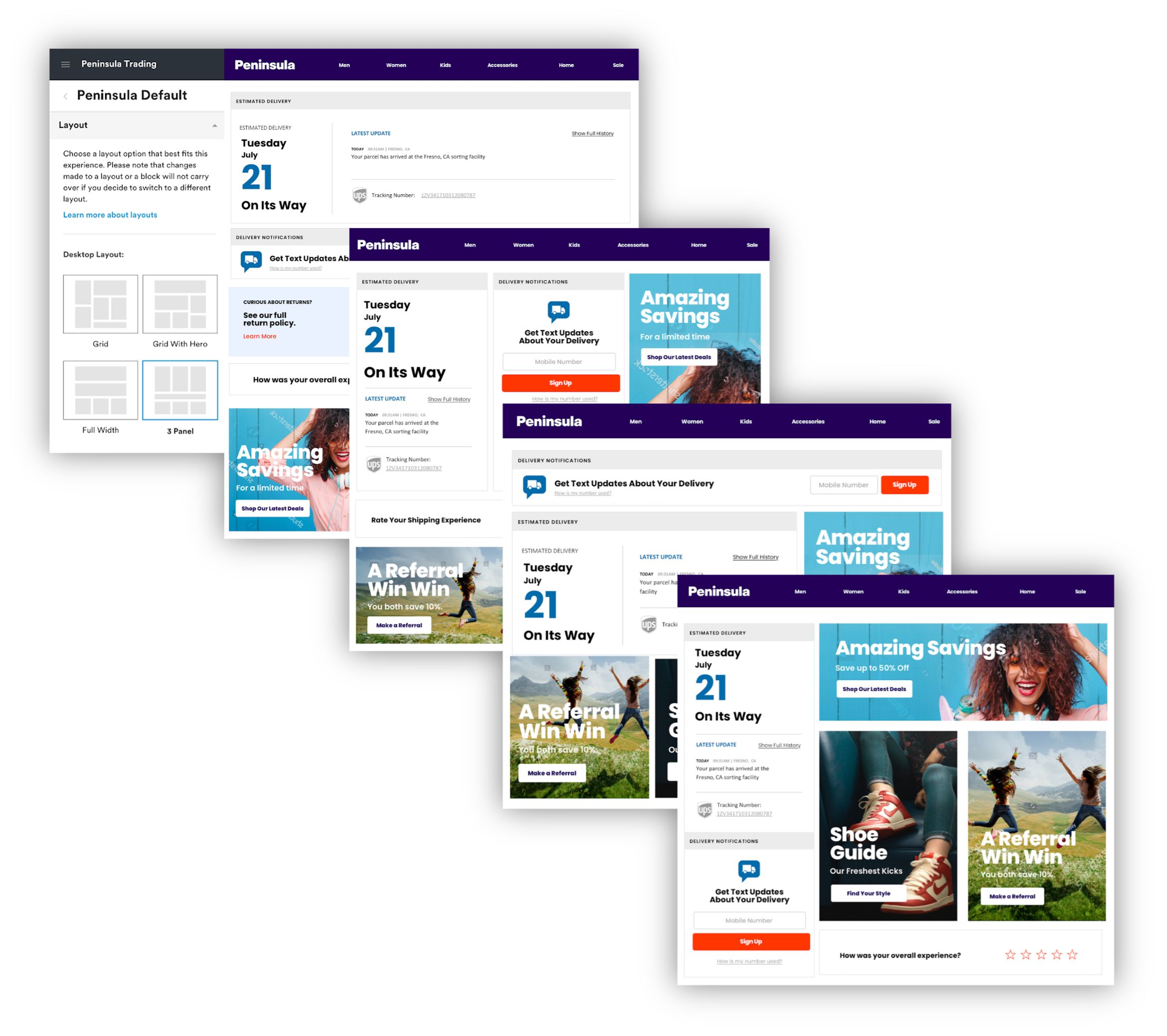 Additionally, you can configure your track experience based on the status of a shipment, so you're communicating the right message for your customer's context.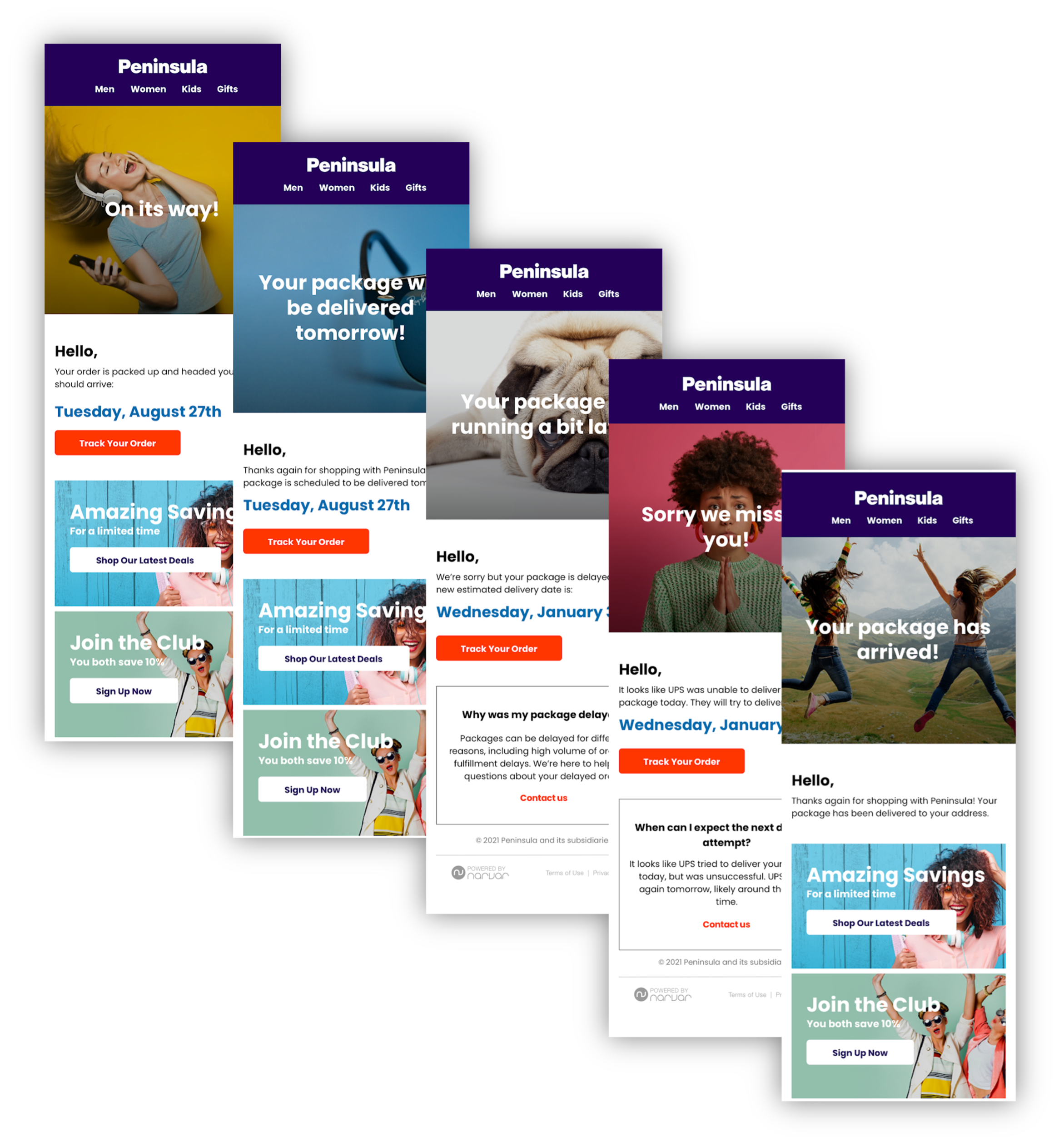 Shipment status-based content enables you to create a custom post-purchase experience for an upcoming sale or promotion and then incorporate unique, relevant assets for each shipment status email.
With shipment status-based content, you can create an experience to promote an upcoming sale, and then customize the 'exception' status to provide additional context to the delay and present the consumer with ways to manage their order or view your support content.
View our article Shipment Status-Based Content to learn more.
Self-Serve
Track has also been designed to be entirely self-serve, enabling you to create and customize a post-purchase experience without the need to submit a ticket with Narvar Support. Narvar's self-serve documentation will guide you through the process of customizing your branding to ensure that your fonts, colors, headers, and image assets are all up to date. You have full control over the copy used throughout the post-purchase experience with the ability to update the language to match your brand voice. You can refresh assets ensuring that the proper assets are displayed at the appropriate time such as updating assets for holidays or special events. Lastly, you have increased flexibility over delivery management with our self-serve content guiding you through the process.
Learn more about the benefits that Narvar's Track can offer you today!